1.1 Summary
In the 'Summary' tab, you get data relating to total number of waves, groups, databases, and servers as well as summary information such as the make-up of the different waves and a view of the Five R analysis.
The Five Rs were originally developed by Gartner to clarify options when considering modernizing applications and databases to the cloud. Since being developed, the model has evolved and CloudRecon includes six Rs, but we'll refer to it as the Five Rs as that is the commonly accepted term. The purpose of Five R analysis in a cloud environment is to evaluate the database(s) based on the business goals such as increased innovation, fast migration, cost efficiency, etc. This allows you to maximize the benefits of the cloud and minimize costs to improve resource utilization.
Rehost : This is the simplest migration strategy, where the application is moved to a new environment without making any changes to the code or architecture.
Refactor : This involves making changes to the code or architecture to optimize it for the new environment, while retaining the existing functionality of the application.
Rebuild : This strategy involves completely rebuilding the application from scratch, taking advantage of new technology and architecture patterns.
Replace : This involves replacing the existing application with a different solution that provides equivalent functionality.
Retire : This strategy involves retiring the application, either because it is no longer needed or because a viable substitute has been found.
Retain : In some instances it might be advisable to retain the application on premises due to the nature of the application itself, the investment required to modernize or very specific or specialized compliance and regulatory requirements that might not yet be available in the cloud.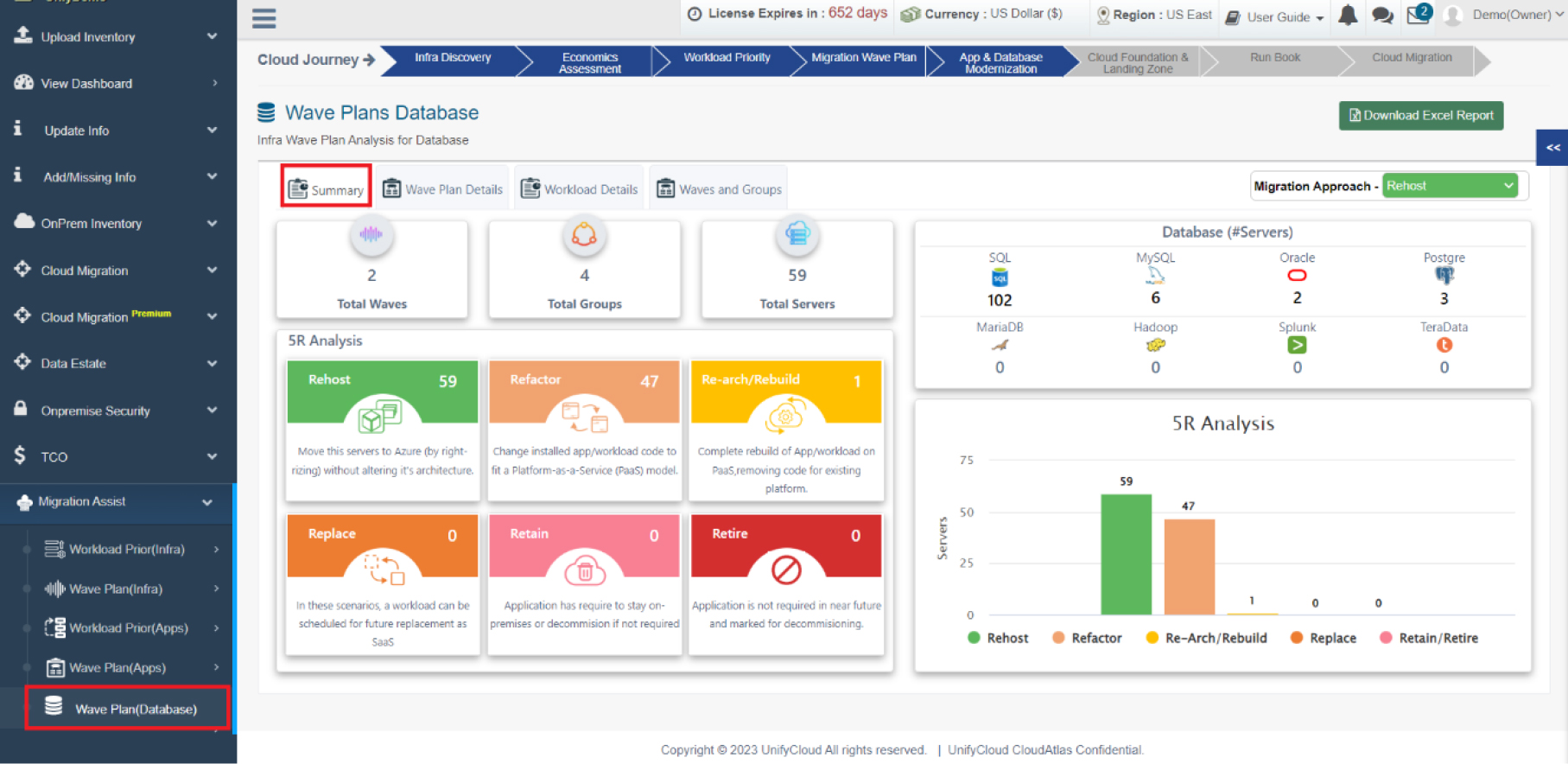 1.3 Workload details
In the 'Workload details' Tab, you can see details for all database VMs, such as, server type, server name, migration approach, other workloads, Azure target, Platform Factor and Comments. Analysis is applied to the databases, including SQL database, MySQL, PostgreSQL, Oracle, MongoDB and MariaDB. Through this process, overall performance and suitability for a given application or purpose can be determined.